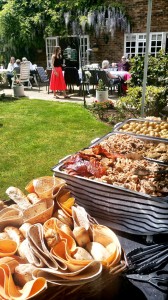 Hog Roast Aberdeen specialises in private party, wedding and corporate event catering, so whatever you're planning, and whether it's a formal or informal occasion, we are a great choice of caterer. For many years now, we've provided fantastic, homemade food at an affordable price, while priding ourselves on first-class service and high standards. We use high-quality, local, fresh ingredients and you really can taste the difference, whether it's when munching on the meat we've roasted, right down to the condiments we use and the sauces we prepare. We're a team of highly-trained and knowledgeable professionals, who are passionate about hog and spit roast cooking but we also love to give our customers the option of variety, too.
Your Party, Your Food, Your Choice
Whether you'd like additional dishes served at your function, such as potatoes, vegetables or salads, or if you'd like alternatives provided, whether for guests with dietary requirements or to please different palates, Hog Roast Aberdeen has a variety of menus to ensure that all your guests are well-fed on the day, regardless of preference or need. If you'd like something a bit different, such as our Southern Slow Roast Menu, which features several marinated meats, several sides and some tasty sauces, that's not a problem either, as we're more than happy to cook other dishes if preferred. We could barbecue our gourmet sausages and burgers or even fish, provide pigs in buns with a vegetarian alternative or add a gluten-free option to a menu featuring several courses. We can make a selection of delicious canapes, provide a drinks reception or have waiters serve seated courses to your guests. Whatever you're thinking of, it's no trouble to us. After all, it's your party, so it should be your choice of food.
The Best Hog Roasts In Aberdeen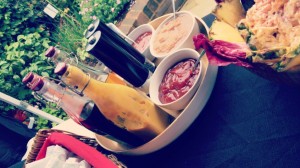 Hog Roast Aberdeen has spent years perfecting hog roasts, using our own top-class machines that are built from scratch. We lovingly prepare the meat and then watch over it carefully as it sizzles away for hours upon hours, and then after a rest, it's the perfect time to slice off the crunchy crackling and slice into the juicy morsels of meat inside. Our repeat customers swear by them and so do we, and that's why we know we make the best hog roasts in town. Try one yourself and you'll see what you've been missing!